– Your Investment In This Course Is Totally Safe And 110% Guaranteed –

Like many folks, you are probably curious about my 110% Success Insurance Guarantee. No, that's no typo or an error.

This course is based upon some good old-fashioned principles and truths.

Things called "honesty" and "integrity". You see that goofy looking dude in that picture above? That's me... Jerry.

I believe in treating people with respect, courtesy, and appreciation. That's the way I like to be treated and I think it's only way to roll. This course is truly a representation of me. I am the course I guess you might say. It's a boiled down and proven system to learn that is built on my over 35 years playing guitar.

It's my name on the line. It's my reputation. That means something to me!

Guitar and music have always been a part of my life and I'm honored to not only show you a very powerful way to jump ahead in your playing... I'm happy to stand by it with the best guarantee in the business. Read on...
In my course information, you'll often see mention of my 110% Success Insurance Guarantee.
No – that is not some gimmick or a price.
There are no gimmicks here.
Remember, this isn't that type of site – and if you've read any of the testimonials I've shown you on our little journey to this point, you know you've found something good, legit, and highly reputable!
I've been playing for three years now. All I can say is thanks Jerry.

Obviously, this is very easy to do but in the three years I've played (and taken lessons), I've never had this shown to me and it's so obvious.

You've made this super easy to understand. Everyone wanting to truly advance in their playing should consider your methods of teaching as a -must have-. Never boring and always very informative and useful with a perfect mix of kindness and humility.

Thanks. K.
The number "110" is more of an insurance policy for what you are about to invest in as a guitarist.
This number is very important because I'm about to do something you WILL NOT see anywhere else on the web, in your local guitar shop, or at your private guitar teachers studio. Nowhere. Ever!

Before I go there, I should probably tell you exactly why I'm flat out sold on the 110 concept and why I'm doing it t – so you don't think I've lost my mind.
Basically, I'm doing it because I believe that most people are good people.
I believe they can be trusted. I believe most people are honest at heart.
I've known thousands of guitar players (literally - due to my guitar course) and I think most of us are "wired" about the same. We're good folks. We can be trusted. We have values.

If this doesn't describe you, please do me a favor and get the heck out here. This site is for guitar players that fit the description above. I'm about to put my butt on the line for you and we won't get along for long if you are not honest about what I'm getting ready to do!
If that rubs you wrong, I'm sorry – you were in the wrong place all along.
You certainly wouldn't appreciate anything I stand for – in particular, being fair and good to fellow pickers (and human beings in general) and honoring the trust they have placed in me.
On the other hand, if you are honest, you'll most certainly appreciate me being so candid and upfront about this. This would come as no insult to you at all!
I know you'll appreciate what the "110 Success Insurance" concept is all about –and you'll be honest and respect it.
I take integrity and honesty real SERIOUS!
Again, the testimonials say it all. Feel free to look around at them. They are on the home page , throughout the free report, "The Bridge" (the free course), they're all over facebook, the web, guitar forums, the members area... you name it. They are everywhere and for a darn good reason...
...THIS IS THE REAL DEAL!
So Here It Is... Pay Close Attention – Please!
I told you earlier that (from time to time) you may arrive at my site and find the dreaded flashing "SOLD OUT" sign. There is a simple reason why.
You'll understand when we work together but it can best be decribed as "Old Fashioned Personalized Customer Service".
In this day and time, unfortunately –that concept is nearly forgotten!
That' sad!
It's a great concept. For myself, that's how I roll and it translates into these important points:
• I care about my customers.
• I take care of them.
• I respect them.
• I give them great service at a very fair price.
• My customers/students extend the same courtesy to me!
• We are a community of players (old and new) that truly share a passion for guitar and enjoying it. Our community is often referred to as "The Tribe".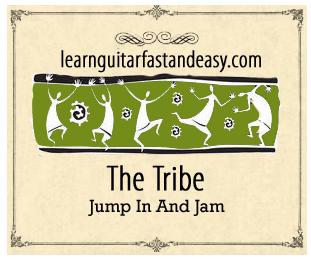 There is a huge sense of unity among The Tribe. You'll see for yourself once you sign up.
I'll stake my name on all of those... Just ask around in the forums.
But here's the thing... I wish I could work with hundreds of thousands of people/students at a time – and still extend myself the way my students have known me to do!
But I can't do it... There are only so many hours in the day.
So, slots to my course are limited until I am comfortable opening the doors again. If you are at this page, the door is open – for a bit. :-)
My free "Bridge" course is really just an introduction to show you a new way to think about your playing. You've either taken it or you're getting ready to.
It is primarily designed to help you begin the process of thinking outside the box – the traditional "guitar lesson" mumbo-jumbo box.
It also helps you learn the terminology I use in my main course (called "Full Blown").
If you're like a sea of other students, you're probably a little anxious and "Trigger Happy" at this point. You'd probably like to go ahead and sign up for "Full Blown" from the Get-Go without doing the free course first ("The Bridge").
If so, that's fine. I still include "The Bridge" in the "Full Blown" members area and you can complete it there. Whatever you choose is fine with me. There's no pressure here and again, your investment is totally RISK FREE!
All I ask is that you commit to doing the Bridge within the Full Blown area so everything "clicks" for you as your weekly lessons unlock.
And this is where the "110% Success Insurance" concept comes in...
I am so convinced that you'll see such good results with my "Full Blown" course that I'd like to make it absolutely risk free for you get started and give it a try – and I'll even go beyond "risk free".
Remember, I told you I'd stake my name on things?
Well, I'm willing to even put my neck (or tail-feathers) on the line"!
Let me explain...
Try "Full Blown" for a full 30 days... I'll cover your back!
If at anytime during those thirty days you aren't happy with your progress, I'll refund every penny you've paid –BUT I'LL EVEN DO MORE THAN THAT!...
Just shoot me a note and...
I will pay you personally (via paypal) another 10% on top of what you paid! That's how convinced I am that my system will work for you! (See Block Below).
Now think about what I'm saying...
I'LL PAY YOU 10% MORE THAN YOU PAID IF YOU CAN HONESTLY SAY THIS SYSTEM DIDN'T BRING YOU GREAT RESULTS!
Just understand what I'm offering you here. This is way beyond risk free.
| | |
| --- | --- |
| | |
| | |
Why in the world would I make this sort of offer and take such a risk for you and thousands of other total strangers?
For one, I'm no Spring chicken anymore, I'd love to leave something behind that made a difference in the lives of millions of players. This course can do it!
The idea of leaving something behind sound crazy? It won't forever to you my friend. Time passes quickly. Start thinking about what you can leave. ;–)
I think we all have something in us that's worth sharing –even if it's just carving our name in a tree. Do it... carve it deep!
You should also read about my Project GAK and what we are doing for under-privilaged kids. You'll love it! There's a link at the bottom of the Home page.
Another reason for trusting you with my 110% Success Insurance...
I know this unique system is a very effective way to learn to play guitar the way you've always dreamed of playing it.
This is NOT just another guitar player telling the same old RE-HASHED things you see all over the web.
This is my system. It's my way. It's my interpretation boiled down in a way that a player can get somewhere very fast in their playing. It's my journey of 36 years presented in a simple step-by-step process that works for all players.
It's a solution to all The Top 10 Problems All Players Face and a DEAD ON step by step approach for totally mastering The 3 Rules (both of these topics are "yours for the taking" on the home page in the Free Section Tabs).
It is the "secret sauce" famous guitar legends have used for years. I assure you, it can work for you too.
Yet another reason...
Along with thousands of others, I believe that you wouldn't dream of canceling or cheating me after you experience what's about to happen to your playing.
And finally... I believe you'll be honest with me – since I'm being upfront and honest with you. Easy enough.
Think about, you'll have about four weeks to watch your playing transform and the risk is all on me.
To Qualify For This Offer, I Have Only One Very Simple Requirement Of You–
... Just Be Honest With Me...
If you like what you have learned but for some reason you decide to cancel –don't be unfair to me and ask me for a refund.
Just shoot me a note or click the handy link I give you and say please cancel my access.
Let's just part as fellow guitar pickers with a mutual respect for one another and by all means, stay in touch. You'll have my contact info.
In fact, you can even contact me personally using my private email I give you!
It's my personal email, don't abuse it. I go to bed around 11:30 PM most days and I try to answer all questions within 24-48 hours. Most of the time it's much faster. Just understand that I talk to a ton of folks. I'm real!
And yes... I actually welcome you to contact me. I give you easy methods to do so. In other words, I don't hide behind a website never to be found.
So, again all I ask is just be honest.
Don't try to get money back if you really did learn something. The course is always very affordable.
If on the other hand you haven't enjoyed learning to do things on the guitar (in what would normally take you years) – just say so.
Just send me an email after you use the link to cancel and say something like "Jerry, I want my money back and the 10% – I didn't enjoy things".
You can just send a note to me at jw@learnguitarfastandeasy.com
All you have to do is tell me where to send your payment via Paypal. It's totally up to you. One refund per credit card/member. You know!
It's just that easy... The way it should be!
My neck, fannie, and name is on the line!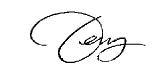 Jerry, your "Knowing Where To Go" lesson should win a Nobel guitar teaching prize."

–– JEREMY Fuller's Vintage Guitar